Happy Friday Everyone! (Or Saturday if you are reading this in a few hours) :)
Today's project is another So Easy, So Cheap, and Totally Impressive!
If you haven't noticed by now, I am all about entertaining and in an unusually way.
I have been on the lookout for two matching plates (one full size and one salad size) along with a matching candle stick, for a while now. Well last Friday on my shopping trip with my Best & Bestest I found the perfect plates.
And this is what I made!!! :)
In Bed Bath & Beyond they have these dishes that are melimac (sp) not plastic not glass and all white. There were $2.99 I thought perfect and grabbed one plate and one salad plate. Well that same day we stopped at St Vincent's dePaul's and I found the perfect candle stick for $2.99 also.
The only other thing I needed was clear Perma Poxy. I was so excited about this project I could not wait to do it, so when I went grocery shopping this week I bought my poxy. :)
This was a 2 minutes project litterly! I started with measuring the plate to find center and marked it. Then mix the poxy (be ready once you do this you have 15 seconds) apply it to the candle stick and placed it in the center of the plate.
Applied poxy to the top of the candle stick and attach plate and Waa Laa you are done!
I absolutely LOVE it! And can not wait to use it! I am thinking cheese and crackers, dip and chips, grapes and apples, even maybe truffles and cupcakes!! :)
Oh man now I am so excited I think I am going to go to the store tomorrow and buy something for it!
Stay tuned I will give a update photo! :)
Have a great weekend!
Jeanne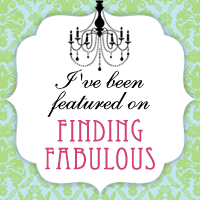 Frugalicious Friday...share your fabulous finds!